SELFBUILD COURSES
Developing Skills is the leading provider of Selfbuild Courses and operates in conjunction with the UK's biggest selling selfbuild magazine Homebuilding & Renovating. We have an outstanding reputation and our tutors include best selling selfbuild authors Mark Brinkley (The Housebuilder's Bible) and David Snell (Building Your Own Home and The New Homeplans Book) as well as planning expert Ken Dijksman.



"I would just like to say how much pleasure and information I obtained by attending your Cambridge course recently. Both you and David are encyclopaedic in your knowledge, and I would heartily recommend your course to anyone considering building, or renovating their own home."
Keith Squires

"Thank you for sharing your knowledge this weekend at the Self Build Course. We enjoyed our time and haven't stopped thinking about the many points discussed - we're excited and raring to go. Feel much more confident about finding the right development opportunities and being able to search with our eyes open."
Peter & Hannah Knowles




---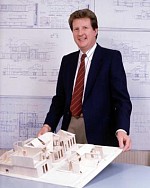 Building Your Own Home

Two Day Course


The basic Selfbuild Couse lasts for two days and our top experts will help you on all aspects of selfbuilding including finding a site, obtaining planning consent, design, organising the build and buying materials.


The course is a great introduction for all selfbuilders - whether you're planning on laying every brick and cutting every timber yourself - or whether you're looking to employ a builder.




Click here for details of the two-day course contents
(PDF file, 815kb)


Split Two Day Course
Each day of the course is self-contained. The first day covers plot-finding and planning and the second day construction methods and managing the build. You can opt to attend one or the other - or both. Cost of each day: £150.



We are currently re-organising the structure of our self-build courses and the next course will commence in Spring 2009. Please email info@selfbuildcourses.co.uk if you are interested in the Spring 2009 courses and we will get back to you as soon as we have further information. Many thanks.




For further details or to book your place email: info@selfbuildcourses.co.uk or call 01480 893833 during office hours.


---
© 2004-2007 Developing Skills Ltd